ok, Abby, you asked for it!
I wouldn't mind turning this into a Project Runway forum for a little bit. I'd enjoy hearing all of your opinions about last night's finale... what did you think of Christian's win? Big surprise?
I kind of thought this would happen for a couple of weeks now. Actually, I
worried
this would happen. He's just so annoying and seems like he's already done the work of manufacturing himself into a character, catchphrase and all. But that's what our culture loves. He'll do fine. And I admit, he really is a good designer. Though I really thought from watching the shows that Rami had it all wrapped up... he really is good.
When PR was over I changed the channel and found myself in the midst of some more fashion inspiration, this time from a 1964 classic.
Feathers, big hats, ridiculous ruffles and sleek female forms don't seem so original anymore, do they Christian? It's hard to match the drama of Cecil Beaton!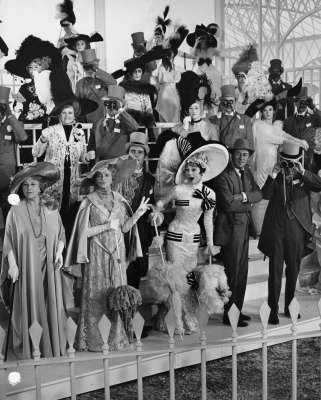 I love the Ascot scene in My Fair Lady. Perfectly choreographed, elegant and hilarious. As fashion should always be.